Biography of Kate Woodville nude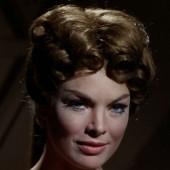 Date of birth

Dec 4, 1938 (78 years)

Profession

Birthplace

United Kingdom

Sign of the zodiac
Our celebs database about Kate Woodville
Among her many film and television appearances, she was known for her appearances in Z-Cars, The Avengers, Danger Man, Mission: Impossible, It Takes a Thief the 1968 TV series, Mannix, The Rockford Files, Days of Our Lives and Eight Is Enough. In the original Star Trek series, she played Natira in the episode "For the World Is Hollow and I Have Touched the Sky" (1968). She guest-starred in an episode of Kung Fu as "Nedra" in Season 2 Episode 12 (1974) entitled "The Gunman". She guest-starred in an episode of Gibbsville in 1976, and The Saint TV series, Season 3 Episode 4 "The Scorpion".
She was married twice; first to Avengers star Patrick Macnee from 1965 to 1969, and then to actor Edward Albert (son of Eddie Albert) from 1978 until he died in 2006. She was the mother of poet and songwriter Thaïs "Tai" Carmen.
Woodville retired from acting at the end of the 1970s. She died of cancer on 5 June 2013 at the age of 74. Her ashes were sprinkled off Malibu, California at Point Dume. She is survived by her daughter Thaïs.